TYPES OF
UNIT HEATERS:
• Explosion Proof
• Horizontal Discharge
• Vertical Discharge
• High and low steam
• Super heated steam
• Hot water and Glycol
• Super heated water
• High pressure water
• Cooling

MODELS AVAILABLE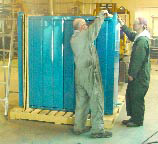 The unit heaters are available with BTU. ranging from
20,000 – 3,000,000 BTU./ hr.

For maximum air projection units are available
from 1,000 to 40,000 cfm.
All TURNBULL brand unit heaters are designed to give maximum performance and maximum life. Our robust unit heater design is able to withstand your most severe conditions. The units thrive in the most severe conditions such as freezing and extremely high steam pressures.
All cores with a steel construction are built with our standard 1", SA-106, gr.B fin pipe, which is seamless, to assure maximum performance and durability.
All units are available with a steel core and our standard steel spiral wound fins. The options of extruded aluminum fins, stainless steel fins and/or stainless steel cores are available in any combination.
Standard motors on all TURNBULL units are TEFC. industrial grade. The options of explosion proof, stainless, washdown and pneumatic drive motors are available.



All fan blades are of industrial grade quality. Units under 6000 Cfm come standard with a heavy-duty aluminum fan blade with a steel hub. Units exceeding 6000 Cfm come standard with an industrial grade steel or stainless fan blade.
Standard coating on all TURNBULL brand units is an epoxy type on the cabinet, core and fins order to assure maximum life and durability. To the best of our knowledge we are the only brand that produces units with a coating on the core and fins